Rayne Darkside V4 36" Longboard Complete
{% if product.subtotal %}
{{ product.subtotal | money | remove: ' ' }}
{% else %} {% assign discount_amount = variant.price | divided_by: variant.compare_at_price | times: -100 | plus: 100 | round %} {% assign discount_threshold = 10 %} {% if variant.available %}
{{ variant.price | money | remove: ' ' }}
{% if variant.compare_at_price > variant.price and discount_amount > 10 %}
{{ variant.compare_at_price | money | remove: ' ' }}
{% endif %} {% else %}
{{ variant.price | money | remove: ' ' }}
{% if variant.compare_at_price > variant.price and discount_amount > 10 %}
{{ variant.compare_at_price | money | remove: ' ' }}
{% endif %}
Sold Out
{% endif %} {% endif %}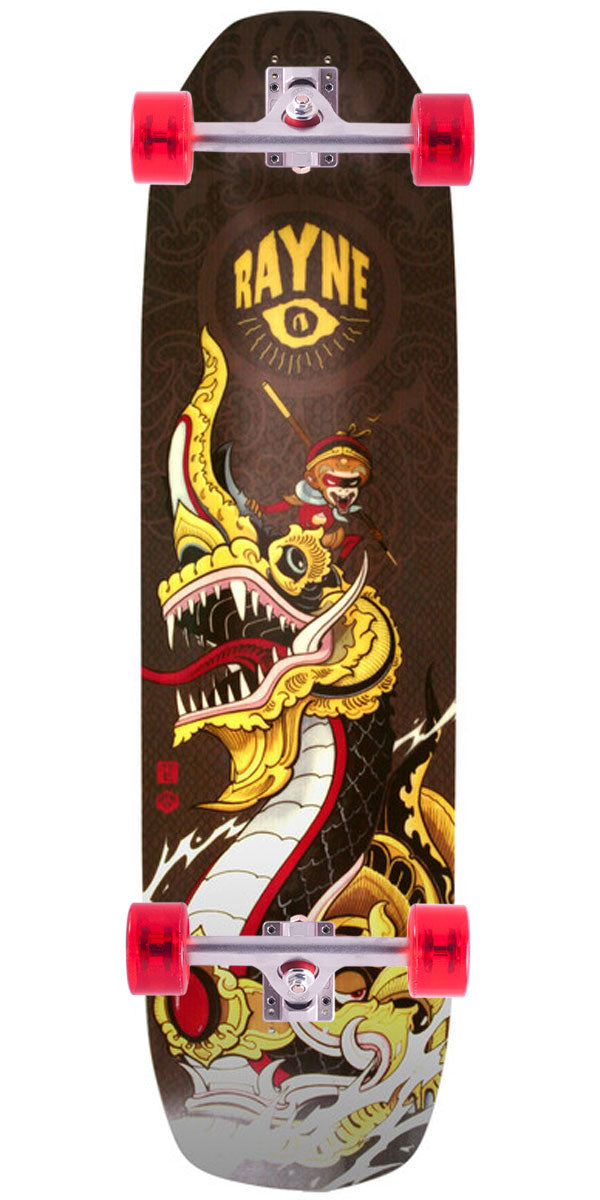 Rayne Darkside V4 36" Longboard Complete
{% if product.subtotal %}
{{ product.subtotal | money | remove: ' ' }}
{% else %} {% assign discount_amount = variant.price | divided_by: variant.compare_at_price | times: -100 | plus: 100 | round %} {% assign discount_threshold = 10 %} {% if variant.available %}
{{ variant.price | money | remove: ' ' }}
{% if variant.compare_at_price > variant.price and discount_amount > 10 %}
{{ variant.compare_at_price | money | remove: ' ' }}
{% endif %} {% else %}
{{ variant.price | money | remove: ' ' }}
{% if variant.compare_at_price > variant.price and discount_amount > 10 %}
{{ variant.compare_at_price | money | remove: ' ' }}
{% endif %}
Sold Out
{% endif %} {% endif %}
Free & Fast Shipping. On orders $50+. Orders placed by 3pm ET ship out same business day. Details here.
Free Returns. On Clothing, Shoes, & Accessories. Clearance items (prices in red) are final sale. Details here.
CCS+ Members. Free 2-3 Day Shipping, exclusive access to product raffles, member events, and more. Learn More.
The Darkside is a directional, Top Mount Freeride Longboard with Radial Drop, 3 stage Rocker and Kick-tails. The Darkside has a relatively short wheelbase compared to larger Longboards, narrower width and built-in wheel wells, plenty of space to put on some 70mm Longboard Wheels, but we think Its most fun on the 64mm jammies. This hybrid Longboard crosses over a love of radial drops for downhill leverage, control and lock-in with a kicktail to get up, over and around everything and anything. Now you kooks can ollie, manual, blunt and firecracker your way around the city on the way to your local freeride spot! Come over to the Darkside!
Details

The Darkside is a directional, Top Mount Freeride Longboard with Radial Drop, 3 stage Rocker and Kick-tails. The Darkside has a relatively short wheelbase compared to larger Longboards, narrower width and built-in wheel wells, plenty of space to put on some 70mm Longboard Wheels, but we think Its most fun on the 64mm jammies. This hybrid Longboard crosses over a love of radial drops for downhill leverage, control and lock-in with a kicktail to get up, over and around everything and anything. Now you kooks can ollie, manual, blunt and firecracker your way around the city on the way to your local freeride spot! Come over to the Darkside!

Specs